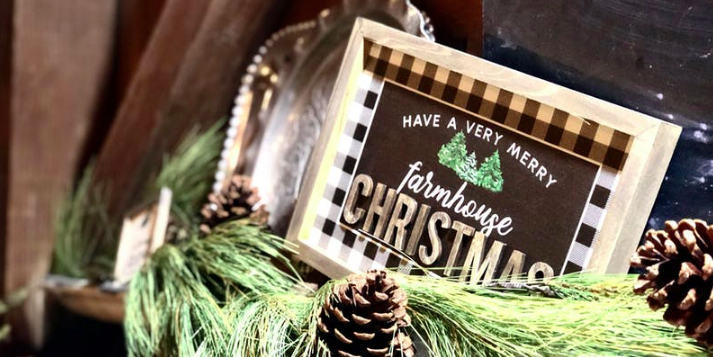 Cowboy is a pretty strict believer in "it's not Christmas until after Thanksgiving" but he loves me and y'all enough to let us get a jump start on all things Christmas at the barn. We are so thrilled to bring you our biggest Christmas ever and the excitement and magic in the air is so contagious I think I heard him singing Jingle Bells.
We have worked hard to bring in something for everyone in every style. From gift shopping and stocking stuffers to the perfect pieces for your home this holiday season. We have two floors of Christmas cozy waiting for you, plus our outdoor patio space and NEW this year — a heated tent for sipping your cocoa, munching on kettle corn and warming your belly with brick-oven fired pizza.
To make the most of your visit: – We recommend you make your way through the barn a couple of times. The first time through looking for unique one of a kind items that you can grab up when you see it before someone else does (remember kindness though…). After bringing those items to the counter, then grab a snack and head back through the barn and shop for the detail items…ornaments, gifts, stocking stuffers, clothing and candles…
Hours for Christmas at the Barn:
**No admission other than early bird shopping**
Thursday, November 7. Early Bird Shopping. 5:30-7:30pm
Purchase tickets here. All proceeds go to Ronald McDonald House.
Friday, November 8th. 3-8pm
Barn shopping, pizza, kettle corn and Addy's pies!!
Saturday, November 9th 9am-3pm
Barn shopping, Barnstorm coffee, pizza, kettle corn, and baked goods from Miss Mary!!
If you miss us on opening weekend — we will restock and do it again on Friday, Nov 15th. 3-8pm and Saturday, Nov 16th 9am-3pm
Barn address: 337 Cemetery Lane, Grandview IA. EXIT 74 from Highway 61. Barn phone number 319-729-2285.