I've been pretty quiet. We've tried to fill your feed with some feelings of normal with home decor, vintage finds, laughter and music. So much noise is crowding the internet, I almost find it difficult to try to squeak out a sound. However, at the same time, my soul craves connection with you. I'll also be honest that I'm probably a better wife, mama and friend when I'm writing, feeling and thinking out loud.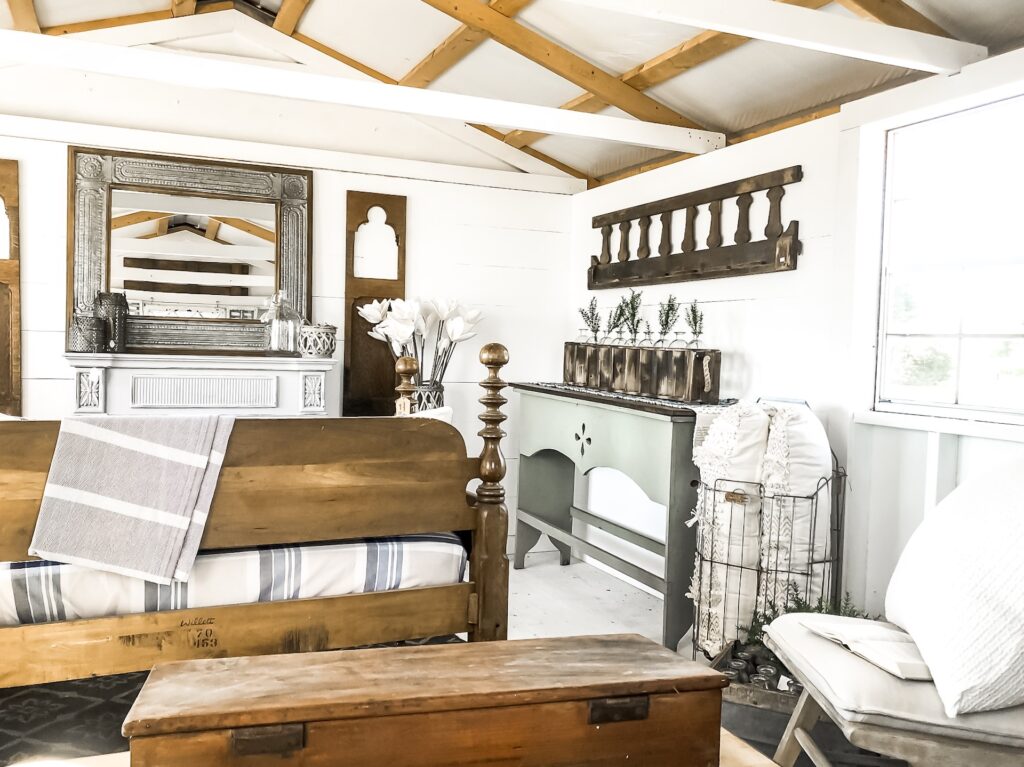 The week before Farm Life Festival, as you can imagine, we run the legs off of our people. No matter how prepared we are, there are just some things that can't be done until the last minute. Early one morning just before the big event, I found myself at the barn alone. I had given our growing teenager people the morning off to sleep as late as they wanted to rest up before the big day. While I envied their ability to sleep in, I had an early morning appointment for vendor set up. Or I thought I did…
As the time came and went for the appointment, I was tempted to be irritated. Irritated with myself for agreeing to the appointment, irritated with them for the early morning request. I found myself wandering into our little "We Shed" (like a she shed with room for friends). As I sat down to enjoy the view, I felt it all bubble up — the rest I needed, the nerves I felt. So much goes into one day and here I was 48 hours before the event totally alone. Alone…
God had given me what I needed — a moment alone in that peaceful little shed. I realized it was perfectly okay to just sit there and take it in….to breathe. Then, I began to pray…out loud…even though I was alone. My weariness turned to song and I promise you it was only a joyful noise to him as I belted out that hymn.
I sat in quiet a little longer and remembered a song that I learned to play on the piano as a teenager. The song was bold and difficult to play and once I mastered it – I enjoyed playing it over and over. I honestly didn't know the words to the song but I played it for offering at church one Sunday. As I played our pastor stood up and began singing the words…
"I sing because I'm happy. I sing because I'm free. His eye is on the sparrow, and I know He watches me…"
In that moment in the quiet (and adorable) little she shed – it hit me. If he cares about that danged old bird then he cares about every single detail of this festival too. SO often the stress I might create for myself is from forgetting that He is with me in every little detail of life.
In a time of so much noise and anxiety, it can be easy to lose track of His care for even the smallest details of our life. Yet, he used something as simple as a sparrow to remind us:
29 Are not two sparrows sold for a penny? Yet not one of them will fall to the ground outside your Father's care.[a] 30 And even the very hairs of your head are all numbered. 31 So don't be afraid; you are worth more than many sparrows.
Whatever weight we might be carrying…big crisis or the small details of everyday life– His eye is on you and we don't have to be afraid.
Oh — and when I was done with my little revival session in the shed — I checked my phone and, indeed, I had the wrong day for the appointment. But I think I was right where I was supposed to be afterall.