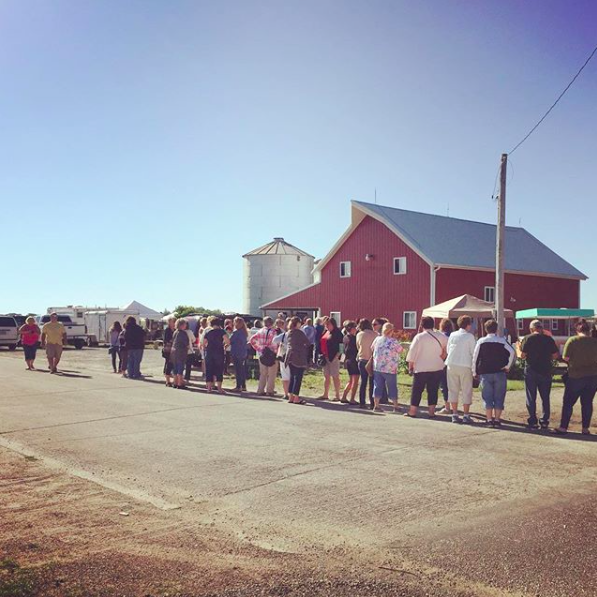 Even if you've never been up before the sun to feed a hungry animal or safely deliver a baby, there's a special sort of magic in farm life that we all recognize.
Farm Life Festival attempts to capture a simple bit of that feeling. This one day event celebrates modern farm life and our rural roots. Photos on the tractor, sipping fresh lemonade, petting farm animals —  all while shopping collectors, makers and creatives that inspire us to surround ourselves with beautiful simplicity. Live music and delicious food centered around a beautifully reclaimed big red barn brings people from all over to relax and enjoy the countryside just outside a tiny town of 300 people in southeast Iowa.
2018 Farm Life Festival will be June 23rd, 9am-4pm at 337 Cemetery Lane, Grandview, IA.
Thanks to Paula Sands Live for hosting us to chat about shopping vendor markets and a few onus design tips too. Want to know more about the incredible vendors featured on the show?
Traveling Sanctuary Sisterhood
We invite you to join us this Saturday for not only some of the best shopping around, but also for the food, the friends, the music and maybe even a little two step if you dare. We promise we won't close out the day without a little dance in your honor. Thanks to everyone who shares our posts and believes in this little dream called R7. See you Saturday!!!
Oh and don't be afraid to stop us in the hustle…we love nothing more than spending a little time with you. Safe travels here to GrandView IA. June 23rd. 9am-4pm. Admission $3. Kids 14 & under free.
From R7 to you —
Be a blessing.