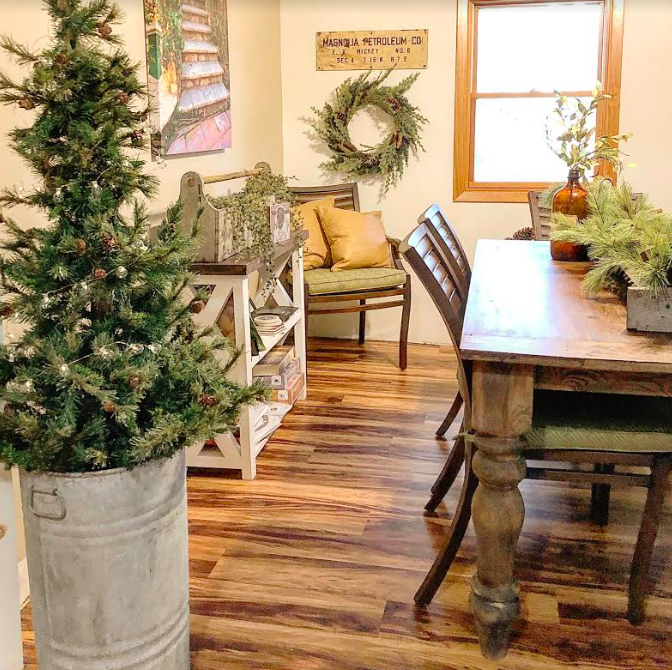 Red and green rubber totes will soon be seen in every aisle. Each year, though, I have less interest in storing "things" and more desire to simply enjoy the beauty of the season. I don't want to completely give up the cozy, magical feels in the house, so I've learned a few tricks that make decorating a little more simple and I get to keep the cozy into the new year when the drab of January is upon us.
Tip #1 Splurge for greenery. The lush look of cedar and pine echo the beauty of nature in this season. Tucking it in to the decor you are already using makes it easier to not have so much to pack and unpack. Go for the authentic looking greenery that spills and trails. To stretch the budget but get the rich look of the good stuff — consider cutting garlands in two pieces. Add picks of good looking greenery to wreaths that need a refresh and don't under estimate the power of a unique container with a simple sprig or two.
Tip #2 Pops of white. Pops of white provide some fresh contrast and feel light and airy in a busy time of year. Those pops of white will also be a welcome sight in the fresh start of a new year. White containers, candlesticks, and vases can be used year round. Our best selling floral is our white berry mistletoe small wreaths and stems. Pale green leaves accented with glitter and white berries feels like the fresh cover of snow brought inside. Thanks to the return of beautiful flocked trees, garlands and wreaths a touch of white is easy to incorporate. Shop our holiday collection here.
Tip #3 Layer your decor. Layering your decor is the best way to get that over the top luxurious feeling. If you're looking for festive accents of red and green or more colorful looks, add those as the top layer of your decor. For example, add red ornaments into your centerpiece greenery. Add red candles to your mantle or a bow to your wreath. Use floral picks and berry picks and nestle them in to your greenery After Christmas you can take that layer of Christmas color off and still enjoy your greenery and winter decorations into the sometimes dreary months of winter in the Midwest.
If you're really scrambling to get things ready for company, the beauty and welcome feels of a fresh wreath or pot of greens on the porch can set the scene the moment they hit the door. Once inside set up a cocoa station and add a little touch of Christmas to your table and you've set the scene for a magical holiday in a simple way that will be easy to clean up!