Plinging out the notes one at a time I would play "If a picture paints a thousand words" over and over on that old mahogany upright piano I grew up on. As much as I love words, eloquent words seem to fail me when I need them most to express gratitude. I could write a list to fill your screen of people I need to thank, but instead let this picture paint a thousand words that echo "thank you" over and over again — to our shoppers, our vendors, our crew, our friends, our family and YOU!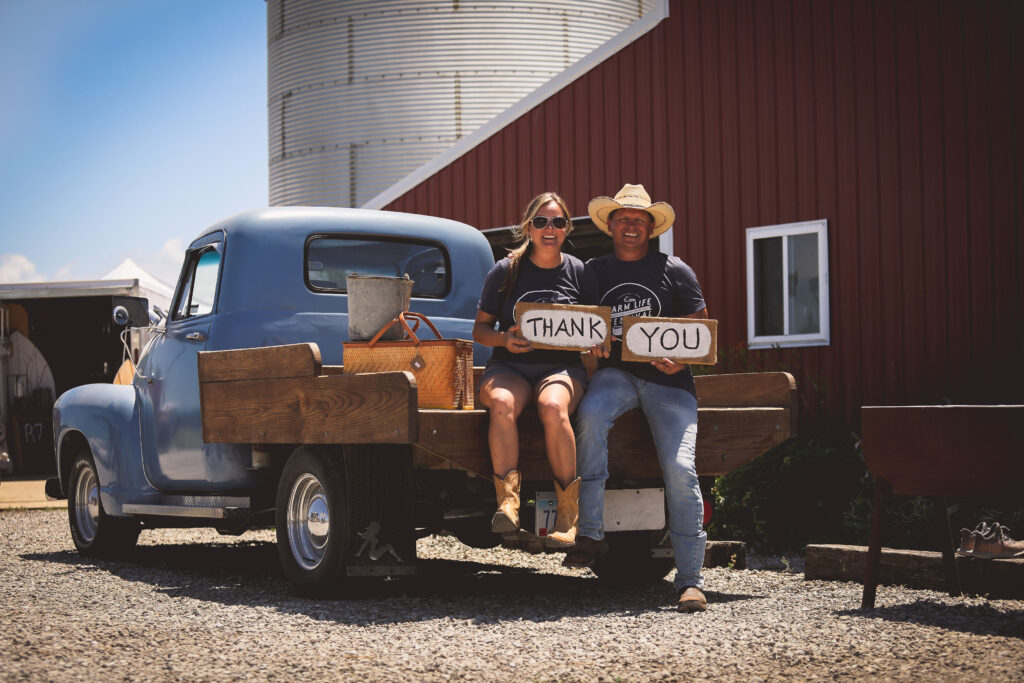 I've always been partial to that magic moment that feels a bit like a Hallmark card or now I think they say Hallmark movie. Cowboy told me in the early hard years that if we ran out of magic, we'd make some. At times that magic looked as simple as pancakes on a carpet picnic because that's what life afforded at the time. It seems unreal that we get to make the magic feeling of Farm Life Festival come to life and be shared with so many kind and smiling friends.

We had so many compliments on our local musicians that I promised to share their info so you can find them again!
Monica Austin, Shiloh Cunningham and our own Cowboy – Jesse Register. Check out their schedule to go listen live at their next venue or book them for your special event.
We LOVE our vendors and we want to make it easy to follow their journey and shop with them all year long!! (If you're a maker and collector get on our email list over on our Farm Life page)
6M Farms – Madsen's Goat Milk Soap
A Little This and That
AdenMae Candle Co
All Things Antlers
B You Designs
Back Road Designs
Barnstorm Coffee Co
Barrel of Wine Designs
Bondgard
Breezy's Biscuits 'n' Barks Dog Treats
Brit Marie's Country Boutique
Bunny's Bakery Shop
crafTsieren
DK Handmade
Down The Street Boutique
Hand-Me-Down Talents
Happy HANDMADE Co
Home Sweet Home Kettle Corn
Iowa Makers/Snowy River Pottery & Snowy River Candle Co.
Iowa Rustic Iron
Junk Refunkery
K&M Crafts
Landy Lou & Devie Too
Lynn So Lovely
MA's Handcrafted Vanilla & Gifts
MJ & Crew
Moonlight Macrame
My Roots Clothing Co
Myers Tree Farm & Potting Shed
Our Copper Mule
Quirky Owl Customs, LLC.
Raining Hedgehogs Studio
Red Barn Boutique
Simply Sarah Nicole Jewelry
Sweet Pea Boutique
Talliha Designs
The Country Cupola
The Farmhouse Market
THE Market: A Journey to Joy
Thrifty Corner Store
Traveling Sanctuary Sisterhood
Urbantique QC
Wallace Metal Works
Windmill Farm
Wishful Farmhouse
Wooden Wheel Winery