My first tip to visiting Round Top is give yourself more than one day. However, since one day is all I had to explore my bucket list destination — I made the most of the day by simply taking it in and planning my strategy for shopping when I return some day.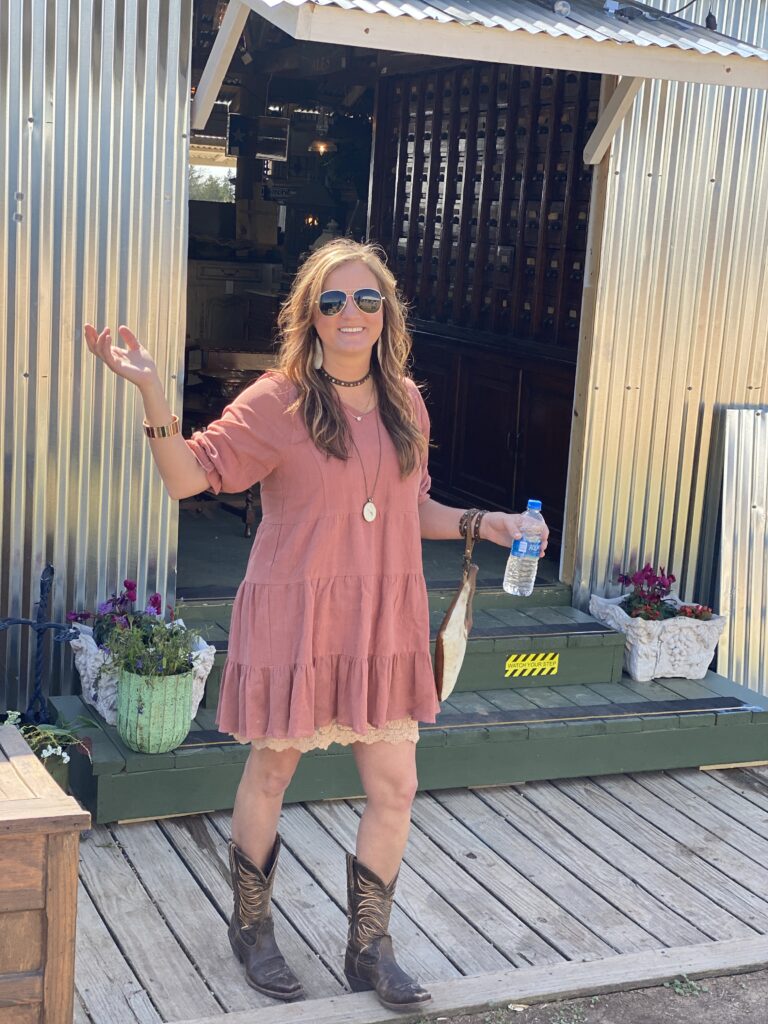 As with any vintage hunt, there are some basics to keep in mind for a comfortable day:
Comfortable layers for when the cool mornings turn to hot afternoons.
Flowing, loose linen was a perfect choice.
Although some were dressed casual, in general — fashion at Round Top is on point.
Dress the part. You'll feel good about it.
You are in Texas, so take the opportunity to add one more chunky accessory to your look.
No matter how cute you want to be — comfortable shoes are a MUST. These are my comfortable work boots, but if I had done multiple days…tennis shoes would be necessary!
Lots of water! Drinks are bountiful and delicious from tea to lemonade to cocktails — but also $$
Keep sunglasses or an umbrella at the ready. Plan to travel light with a small wristlet or crossbody.
Now on to the 'not so light' side of things — let's talk about shopping the big stuff. By far, Round Top has more furniture of every shape and size; more architecture and unique statement pieces than one can find anywhere else. The BIG question is how do you get this stuff home?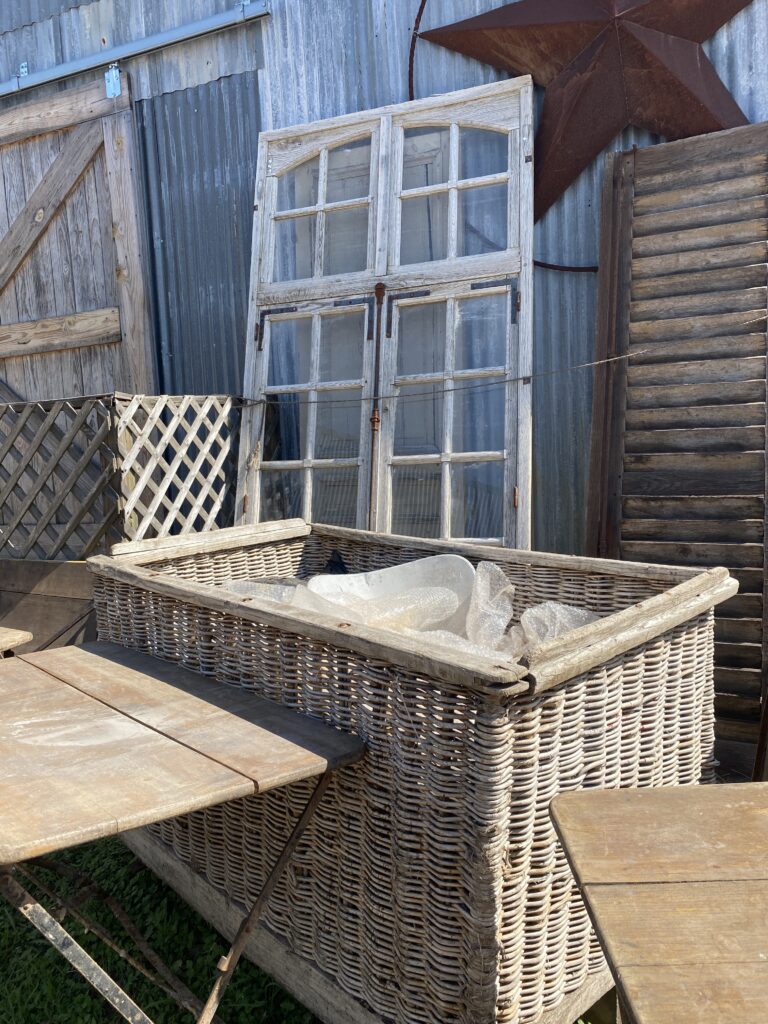 Many dealers rent a moving truck once in Round Top and drive it back home with their finds. Because of our conference and being teachers that wasn't an option, so we did look in to shipping while we were there. Shipping seems like a great option if you only have a couple of items to send back home. I also think if you were shopping for yourself personally rather than as a business that it would be a great option for getting vintage finds and unique furniture shipped home from shopping at Round Top.

I strongly considered purchasing this antique cabinet. The mission style lines appealed to me and the dry sink was so great! That little leg in the front is for pulling out that section of drawers where there is a big bread board for rolling out dough. The bottom right cabinet is the flour bin. I could literally feel the charm and simplicity of a heritage kitchen oozing from this piece. To have this piece packaged and delivered to Iowa the quote was $400. The process is fast and simple just giving the shipper dimensions and photo.
In the end, I decided that although I have a perfect place for this piece right now, I'm not sure it would fit for a lifetime piece. Plus, I want to keep my options open for a real shopping trip back to Round Top.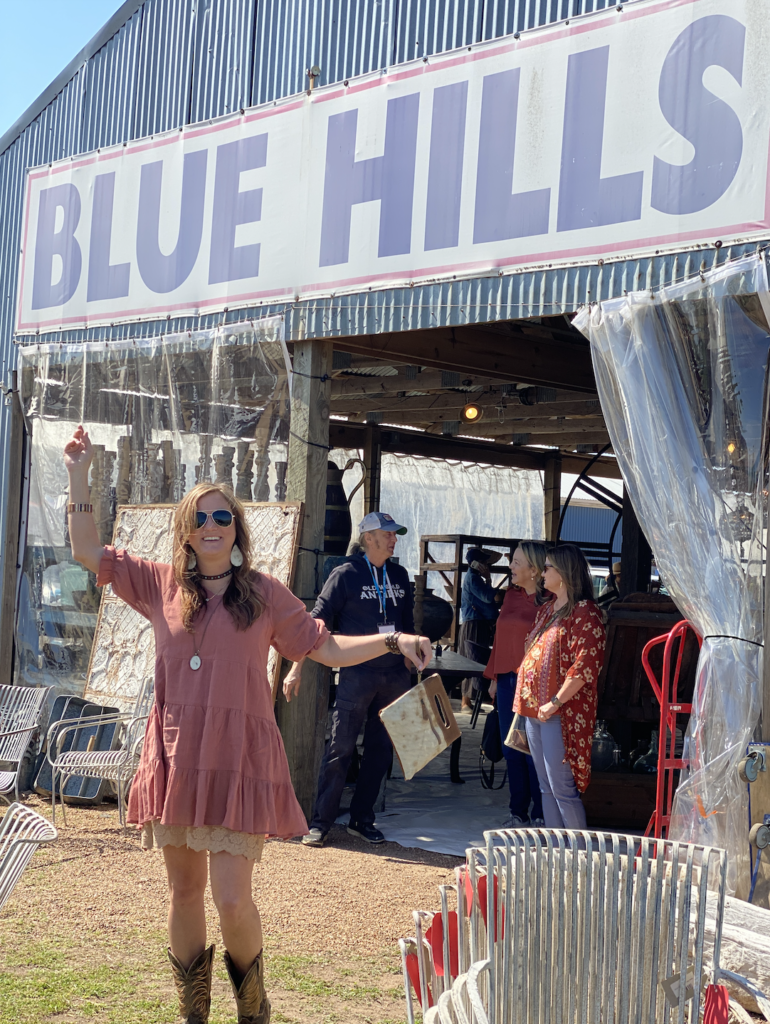 Round Top, Texas is a tiny town in southeast Texas that draws in dealers and buyers from all over the world selling antiques and wares. The gathering happens in March and October of each year. Although Round Top is the birthplace of all of this shopping, the two lane road you follow has small towns and various fields set up. Although you will see repeats along the way, each town or setup has its own flavor and ambience. My favorite stop on this day was at Blue Hills. The setup was easy to see it all, the selection of furniture was impressive and the vibes were just right for me. I found several makers and curators that I will enjoy following and shopping their storefronts when in their town. We stopped at a newer development called Drift + Holler. We enjoyed a wonderful lunch from Seven Seeds Texas BBQ there. Although you feel a sense of urgency to see it all….you will never see it all at Round Top. So linger, eat, explore. You can shop from early morning until late night…day after day!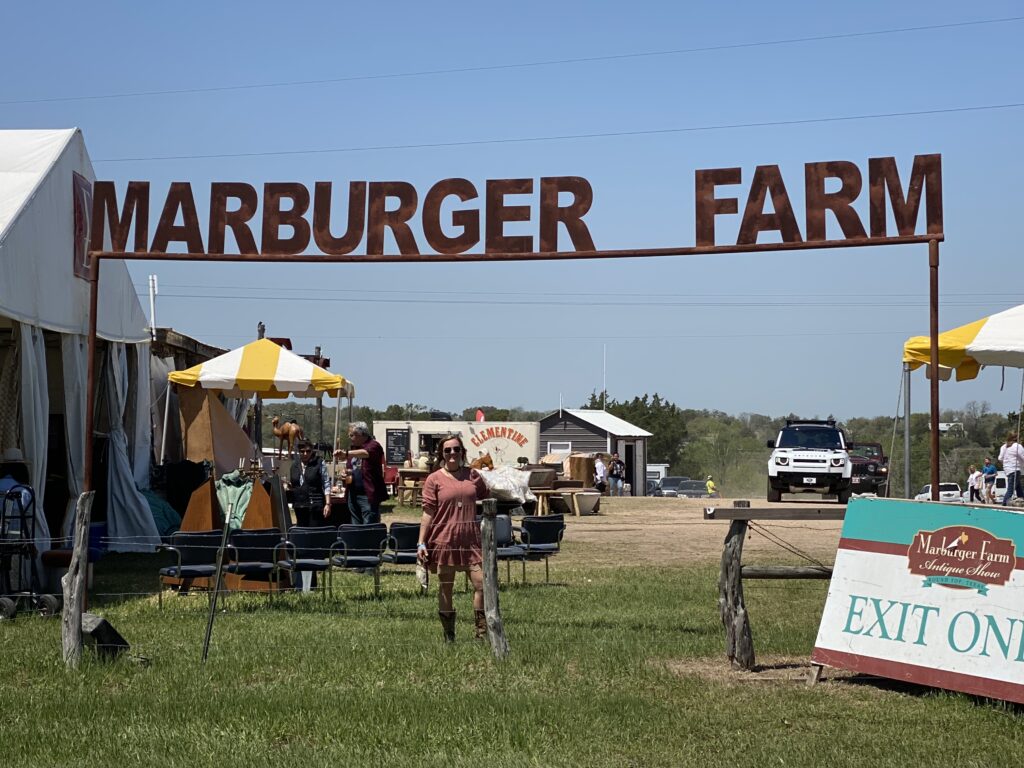 On a longer trip back, I look forward to roaming through the fields of "junk" and antiques. We made many stops just getting a feel for each. I can honestly say that I left without buying anything and still had such a fabulous time. But, look out next time! I will be on a mission!!