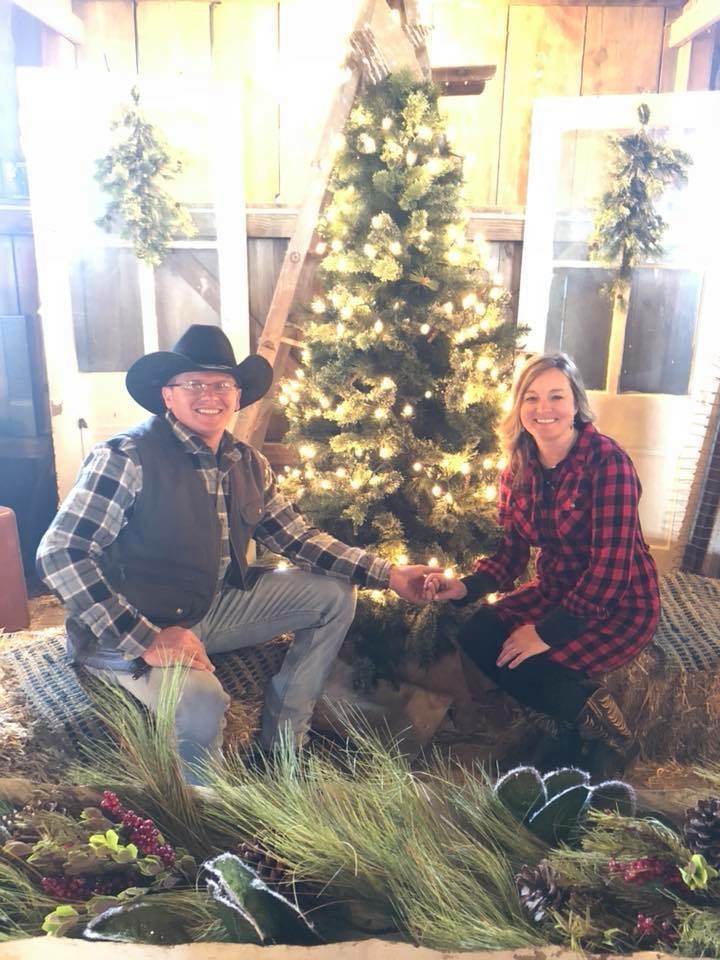 The moment we've been planning for all year is HERE!!! In July, Cowboy and I spent time in the Texas heat shopping, planning and dreaming of what you will find in the barn for Christmas. He's a pretty strict believer in "it's not Christmas until after Thanksgiving" but he loves me and y'all enough to put up with it all year round with only an eye roll or two.
Me, on the other hand — I'm a Christmas fan all-the-way. In fact, one summer when I traveled out of the country for an extended time and felt homesick I just let the iTunes roll when the Christmas songs popped up. Truly, I'm a traditional — I want everyone gathered around the table…place cards in place…front porch decorated, candle in the window, stockings hung with care, and cookies fresh from the oven. To say my expectations are a bit high may be an understatement.
If being a blended family tests anything, it's your expectations. (And…occasionally your character…) You can read more about that on this post here.
Put a rough and tough Cowboy who has very few good Christmas memories with a Hallmark movie wannabe, compound that with kids spread out all over the country and you can understand our Christmas dynamics. As in most things, Cowboy has given in to me and embraced traditions and the coziness of the holidays. In the moments our kids are gathered around the coffee table with a game of cards or curled up fighting over who gets to lay closest to the fire, we are definitely on the same page.
To make the holidays work for us has required both creativity and flexibility. We have definitely brought creativity to you at the barn and we ask  you to bring the flexibility this weekend when we open for the holiday season beginning Friday November 9th. Online sales will also begin this weekend. Many of these will be posted in our online shop, but certainly not all. So if you see something in a photo or video, send us a message or gives us a call and we can still send you a link to purchase online for shipping or pickup in the barn.
We have worked hard to bring in something for everyone in every style. From gift shopping and stocking stuffers to the perfect pieces for your home this holiday season. Although the barn is two floors, our customers LOVE the barn and it can get full quickly. We offer and accept nothing less than kindness and the spirit of the season. The weather is supposed to get a little chilly, but it's cozy in the barn and we will have steaming cups of cocoa, fresh and hot kettle corn and brick-oven fired pizza to warm your belly. We offer shopping inside the barn as well as our outdoor patio space.
To make the most of your visit: – We recommend you make your way through the barn a couple of times. The first time through looking for unique one of a kind items that you can grab up when you see it before someone else does (remember kindness though…). After bringing those items to the counter, then grab a snack and head back through the barn and shop for the detail items…ornaments, gifts, stocking stuffers, clothing and candles…
Below is our regularly scheduled hours, but we also will have "pop-up" openings and welcome customers by appointment too. (If you are interested in shopping with our vendors and Santa Claus — save the date of December 8th)
Our schedule for November hours:
Friday 11/9 5-9pm. Saturday 11/10 9a-3pm
Friday 11/16 12-6pm. Saturday 11/17 9a-3pm. Sunday 11/18 1-4pm
Friday 11/24 12-6pm. Saturday 11/25 9am-3pm. Sunday 11/26 1-4pm
Barn address: 337 Cemetery Lane, Grandview IA. EXIT 74 from Highway 61. Barn phone number 319-729-2285.