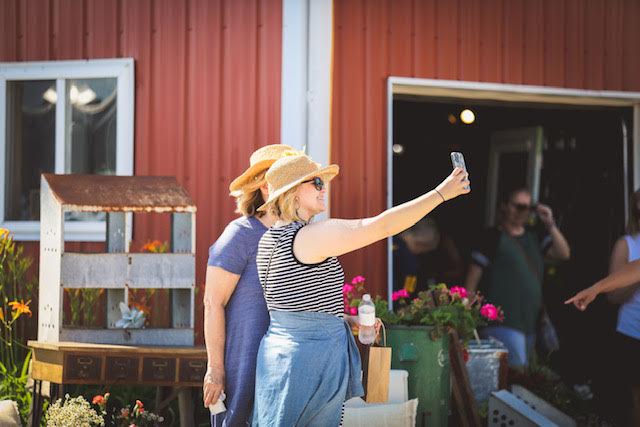 The casual elegance and charm of our opening fall opening is just what you need after a long, toasty week of all of the things!! We start with the most magical night of the year at the barn. We call it ladies night, but anyone is welcome, especially you, my friend. Twinkling lights, music from Cowboy, patio tables, wine tasting and PLEASE plan to have dinner with us too! Rick's Ribs & Catering will be here, coffee, baked goods, barn shopping and a few of our favorite handmade & vintage vendors too!
If you can't make it Friday evening, we will be open 9-3 on Saturday with coffee, more shopping and lunch! We have more VINTAGE in stock than we've had all year and the barn is simply stunning with our fall collections. This is your chance to be the first to see it all.
Details:
Fall Opening Celebration at R7 Barn — No admission!
Friday, Aug 27th, 4:30-9:30 & Saturday, Aug 28th, 9-3
337 Cemetery Lane GrandView IA
We are worth the road trip — we call it the #R7RoadTrip
Vendors:
Shop our 2 story barn!! Plus — we have a few of our favorite vendors joining us!!
Jamie Lynn's Coffee House, Wapello IA
Ricks Ribs + Catering, Muscatine IA
Wooden Wheel Winery, Keota IA
Home Sweet Home Kettle Corn, Donnellson IA
Earthly Treasures, Iowa City IA
MJ & Crew, Plano IL
Simply Styled for You, Bettendorf IA
B-You Designs, GrandView IA
BREEZYS Biscuits and Barks, Mt Pleasant IA
Hand me Down Talents, Indianola IA
A perfect day trip with friends or escape to yourself on the #R7RoadTrip. Can't wait to see you there!
PS – Follow us on Facebook or Instagram for all of the details!
Barn Phone: 319-729-2285